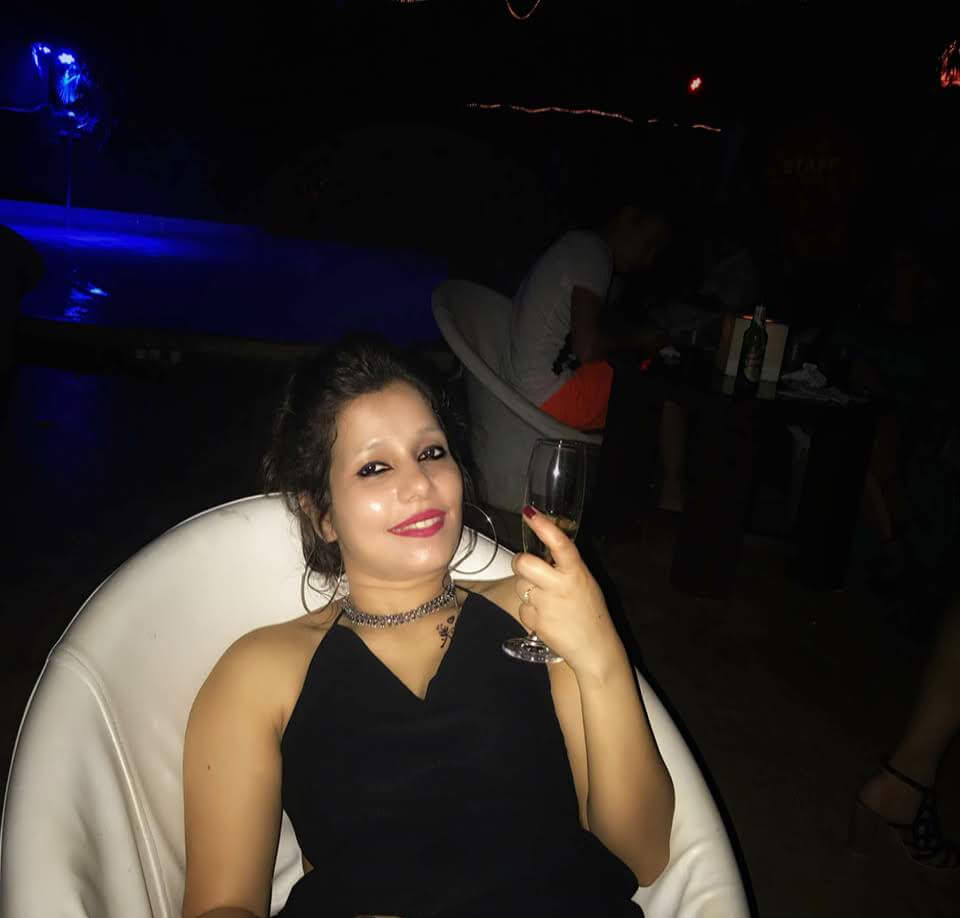 So, here's "The Black maxi dress" which can take you straight from an elegant look to a hippie look in a heartbeat with just the right choice of hairstyle, accessories and footwear. When you're baffled what to wear, this is the piece you can grab impetuously from your closet as you can slip into it for a romantic meal with your beau, beach parties or a day out with the girls but need to learn some tips and tricks to make it run perfectly for your any look.
When heading for an evening party or a date night, of course, you'll love to have the crowd's eyes stuck at you or your boyfriend staring in your eyes for a long time making you blush with warm fuzzies in no time.
For a beautiful and sophisticated look,
Necklace: Try teaming up your outfit with a choker necklace, if you're wearing a halter-neck, off-shoulder, v-neckline maxi dress to highlight your neckline and a set of long layered chains if you're on the high-neck side.
Earrings: Your choice of earrings can actually make you fly from a casual look to a party look. A pair of flowing dangle earrings or various-sized hoop earrings are great to go with, just remember to amp up the cheery ambiance of the party.
Ring: Opt for a set of stacked bands in fingers to accentuate your party look.
Hairstyle: Now comes, the main culprit which alone can ruin your whole party look in seconds, if it turns out to be wrong. So, choose wisely, a messy high bun or a low bun with some hair on the face is perfect to go with for an evening look.
Handbag: Carry a clutch or an elegant handbag that suits your dress to complete your look.
These embellishments can take your dress from simple to ostentatiously rich look.
For a hippie and a groovy look,
Wrap: Top it up with a denim shirt or a jacket to run the chic look.
Necklace: Go for a sleek and a single chained necklace with a big pendant in it. Just try to keep it simple for down the day or a beach stroll so that it doesn't add to too much to your maxi dress. Also, you can wrap a scarf around your neck to add a dramatic look to your maxi dress.
Earrings: Earrings are not necessarily required for a casual look but if you are the one who can't walk out wearing any, just go with a pair of hoops. That's it.
 Bracelets: Bracelets can add life to your plain black maxi dress when worn on a beach or a day out. Add a layered bracelet or a cool beaded bracelet which will make you look super stylish.
 Handbag: Go with a simple tote bag to revel in the chic look.
Hairstyle: Wear curls or a messy hairstyle to add character to your look. Also, you can add a headwrap with a messy high bun to give your hairstyle a more finished look.
Hat: Team up your maxi dress with a wide-brimmed hat which will speak about your killer sense of style and make you look stylish and luxurious.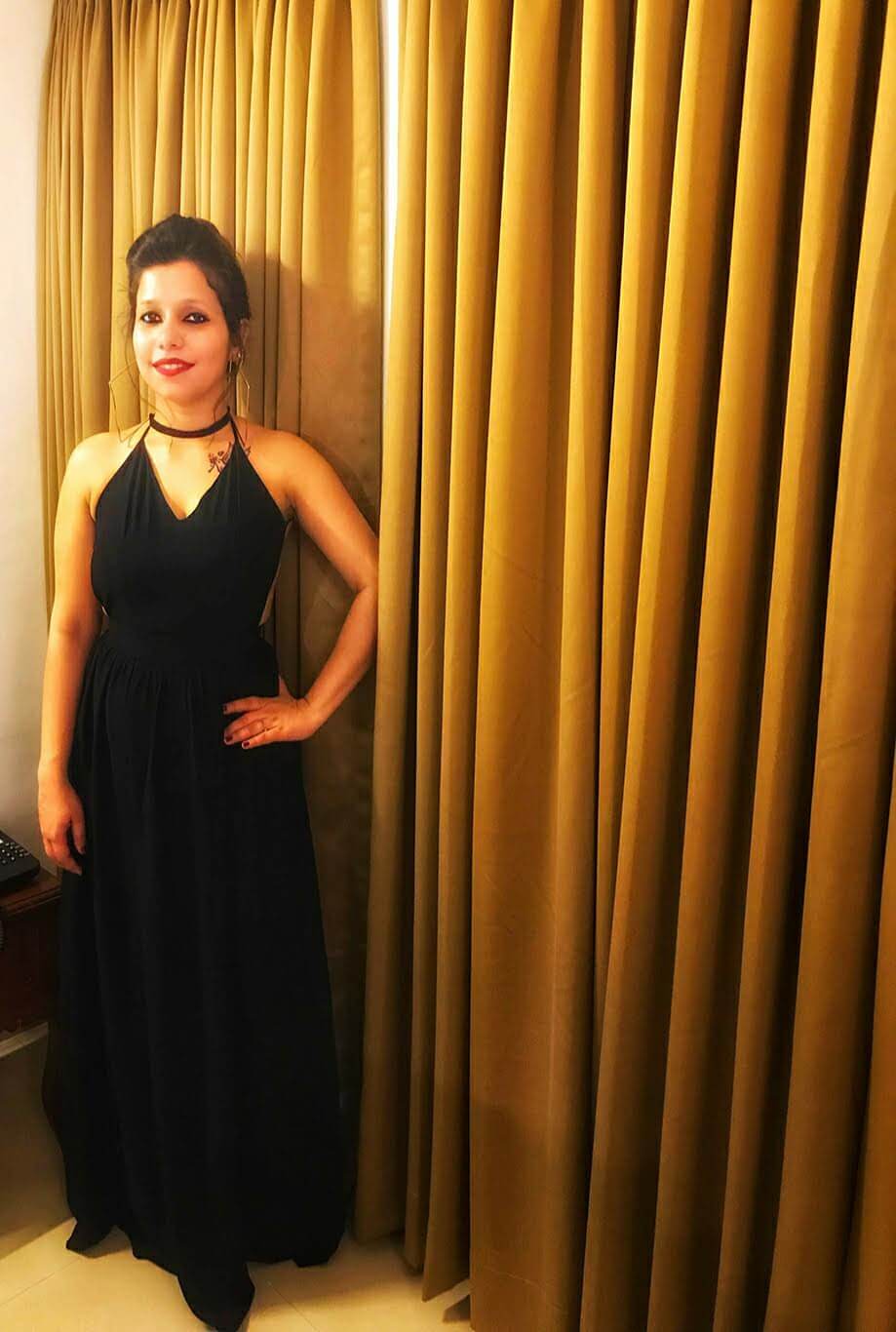 I wore a black maxi dress for a night party. Pairing it with a pair of super big hoop earrings and a black choker but these damn big earrings made me so uncomfortable that I reluctantly had to change these and got into comfortable ones.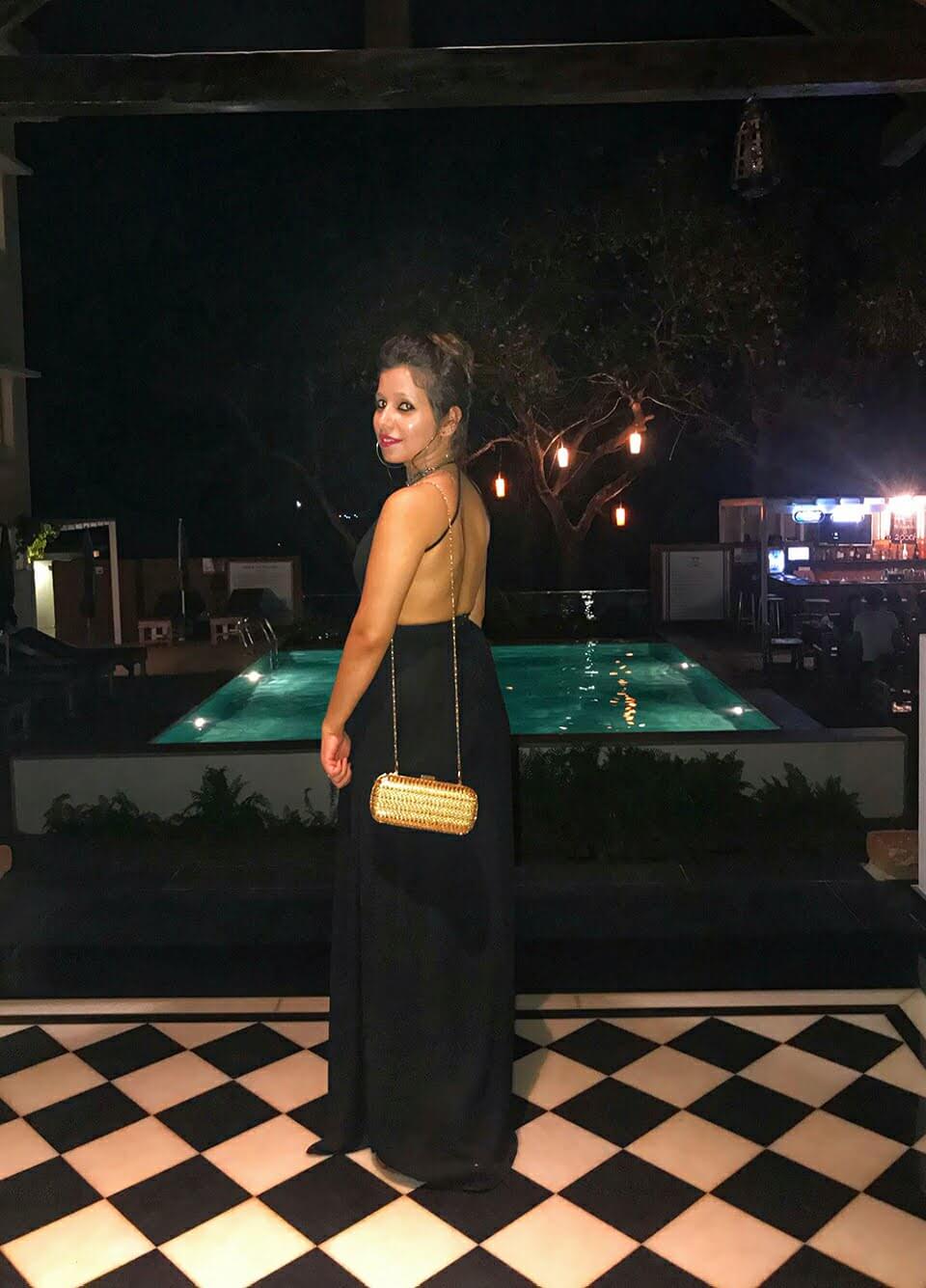 Here, I dressed up the look with medium sized round-shaped hoops and a choker necklace with an evening clutch which gave me an effortless look for the night.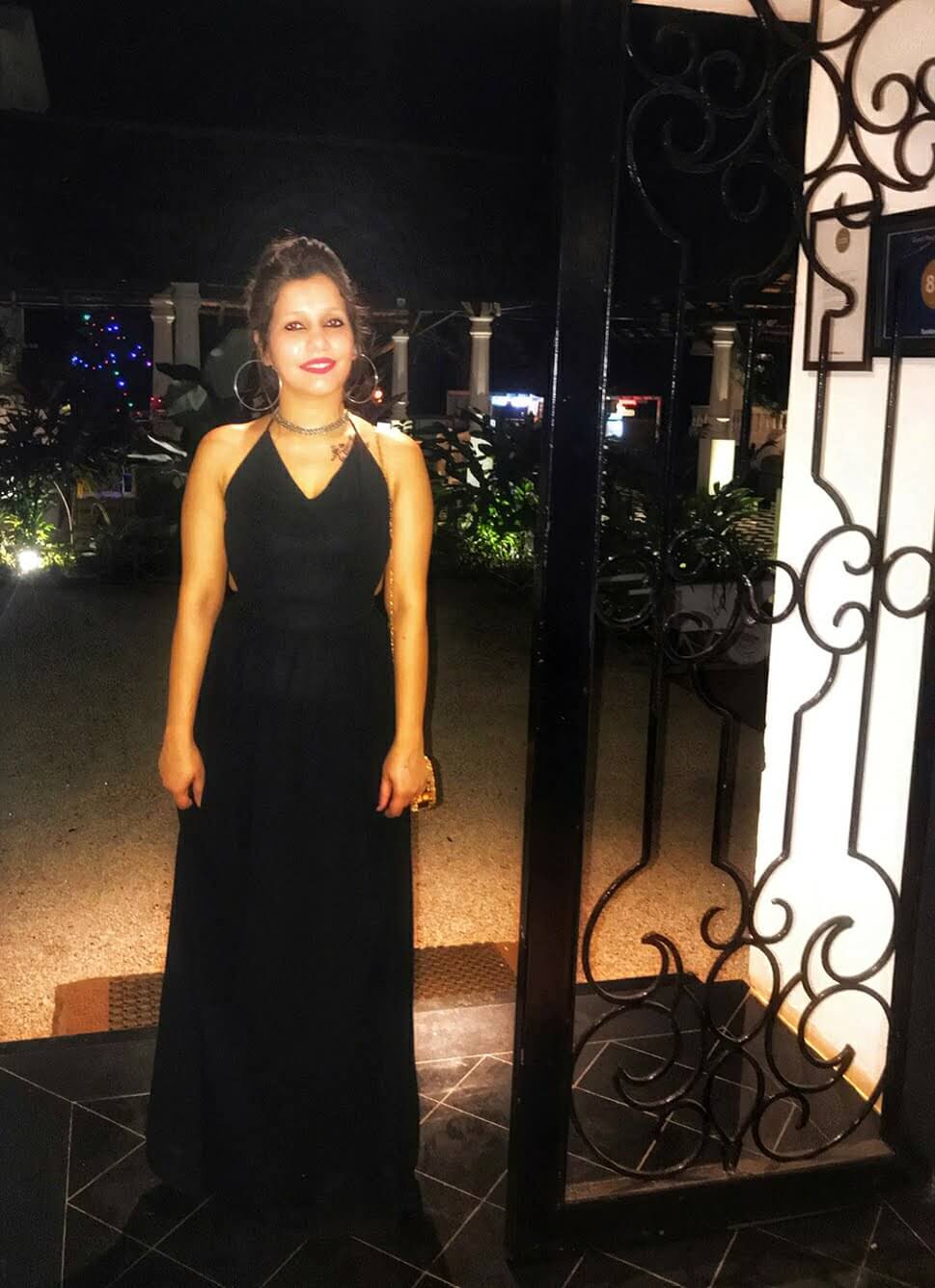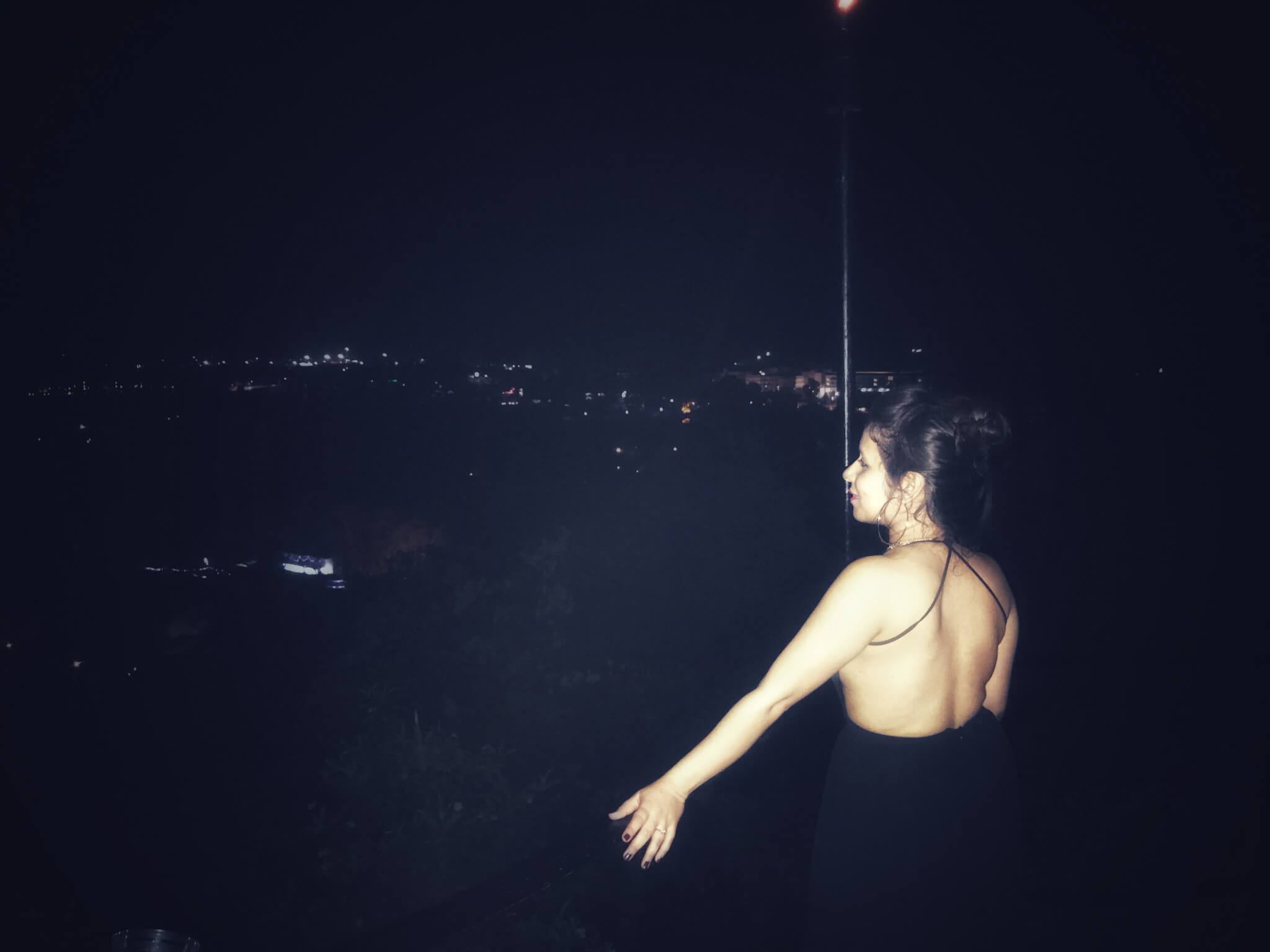 The black maxi dress is versatile in any way you dress it up which makes it a great wardrobe staple that has every right to be in the favorite collection of your closet.
Hope you enjoyed it!