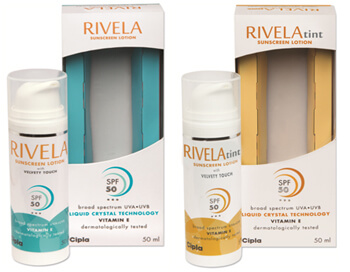 If you are craving to get a velvety touch on your face then here is the end to your struggle. Rivela sunscreen lotion SPF 50-Cipla is a sunscreen with argan oil for moisturizing and revitalizing the skin which gives you a complete velvet touch, the look which other expensive creams fail at. For a long time, I wanted a cream with shiny and velvety touch and this cream has ended my so long quest. I tried a number of creams but none of the cream could give me satisfactory results. Once I visited my sister's place and there I got to try this amazing sunscreen which finally ended my search. I loved the product and it's satin glowing look. It has SPF 50 which helps to protect the skin from the sun with liquid crystal technology and gives a non-sticky feel. The best part is it shelters the skin from both UVB rays, the rays which affect the top layers of the skin and causes sunburn and UVA rays, the rays which affect the lower layers and causes tanning and aging of the skin. I bought it online from Amazon. It is easily available in any pharmacy online or offline. Just wear the sunscreen and you are ready to step out without wearing layers of makeup. It alone gives you a complete makeup look.
Isn't that great?
Good news is girls can now skip wearing makeup daily and protect their skin from the damages caused by the products which stop rejuvenation of the skin and makes it dull. Also, It saves the time and the cost consumed in putting the makeup products daily just to give their face a shiny and a glowy look.
Price of Rivela Sunscreen Lotion SPF 50: Rs. 385/- for 50 ml
You need to apply it once and it will work for 3 to 4 hours. A month ago, I was on a beach vacation and there I applied the sunscreen – 20 minutes before stepping out in the sun and re-applied it after every 3 hours, and every time before going into the water. It worked so well that I came back with very less tanning even after being under the sun for hours. Sunscreen should be used every day because the sun damages the skin by emitting harmful rays all year round even on cloudy days the sun kills the skin.
Benefits of this sunscreen:
It is paraben free.

It is water resistant.

It provides superior broad spectrum sun protection against UVA and UVB rays.

It is non-sticky and gives a velvety touch to your skin.

It reduces the appearance of dark spots.

It is dermatologically tested.

It has a liquid crystal technology with Vitamin E which plays a large part in the aging process, reduce wrinkles and keep the skin youthful-looking.

It gives a complete makeup look.
Besides, its so many advantages, it does have a disadvantage too.
In summers, it makes the face to look oily which causes acne. For acne prone skin, it is suggested to be used with a compact powder.
Be ready to enjoy your beach vacation with no worries!