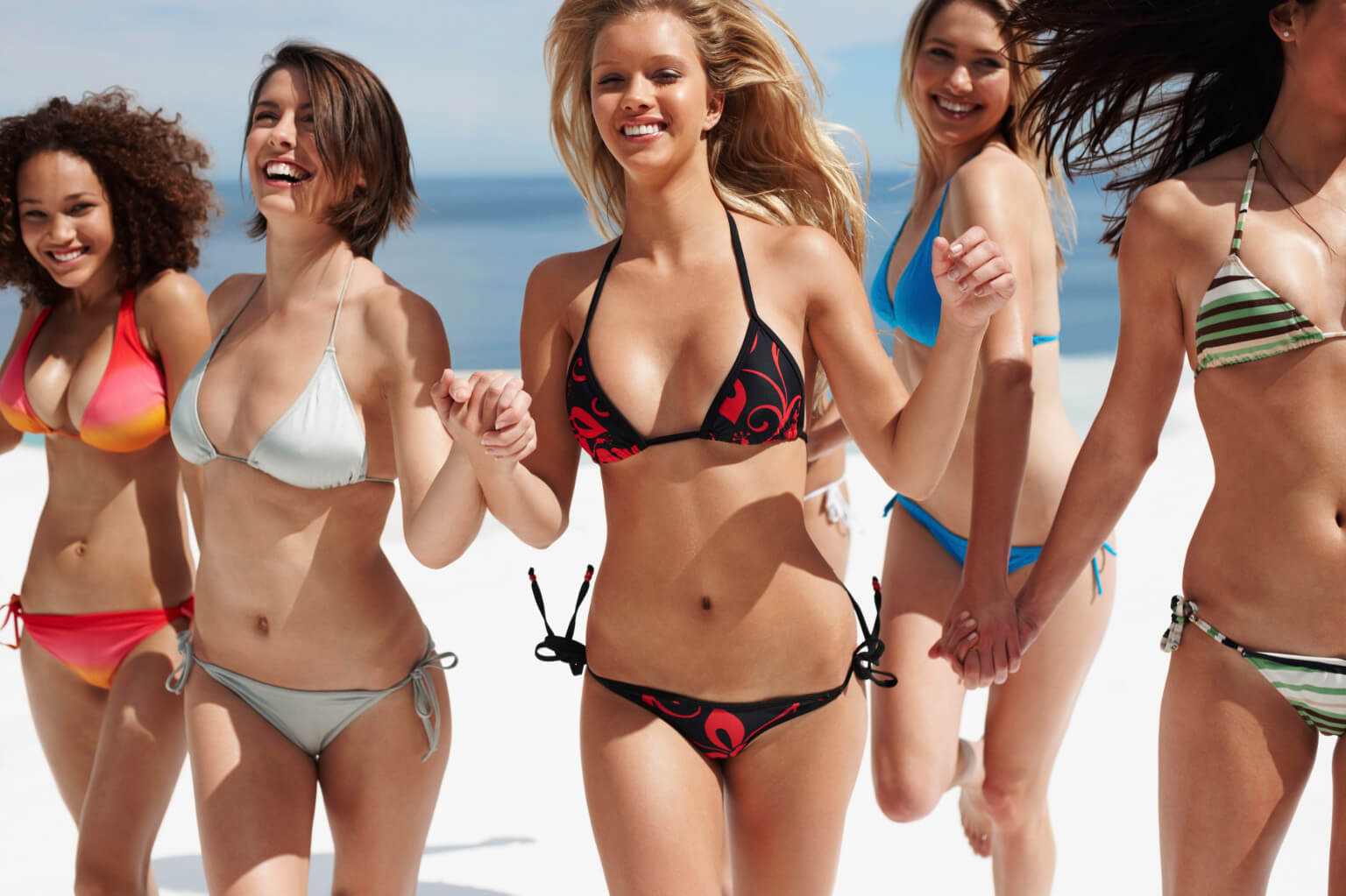 Flaunt your body in style with the latest bikini styles
Summers are all about fun and vacation as it releases you from your daily boring work schedule and adds spices to your life. When it comes to summers, a beach vacation is all you want, for which how can we girls forget to shop for the most gorgeous and perfect pair of swimwear. However, shopping for bikinis can drive you crazy because you can't take every piece that your eyes are drawn on, you need to choose wisely the best that suits your body shape. Hit the beach with the most stylish and flattering swimwear this year. We have rounded up latest bikini styles that would never go out of their way.
1) String Bikini: String bikinis are perfect for showing off the sexy beach body. These look stylishly sexy with its super cute strings tying around at the back of the neck and mid back. Add these to your swimwear collection and flaunt your sexy figure this summer. Best suited for women with a well-toned and slender body.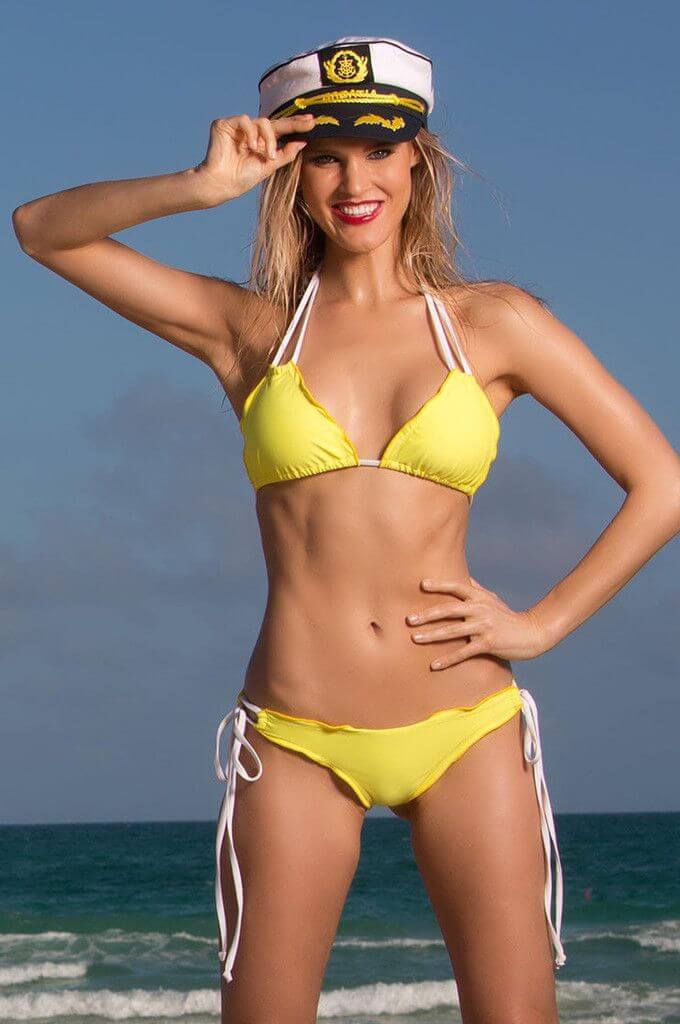 2) Off-The-Shoulder Bikini: Jump into style with the season's trendiest off-the-shoulder bikini. These are the hottest swimwear which redefines your appearance and makes you a beautiful sight on the beach. The off-the-shoulder top can be paired with any bottom wear to get a casual look for any beach party or a festival. These are basically meant for basking in the sun, chilling and partying on the beach and not really for swimming as it makes difficult to move the hands around. Go great for women with pear or triangle body shape as it balances your upper and lower body.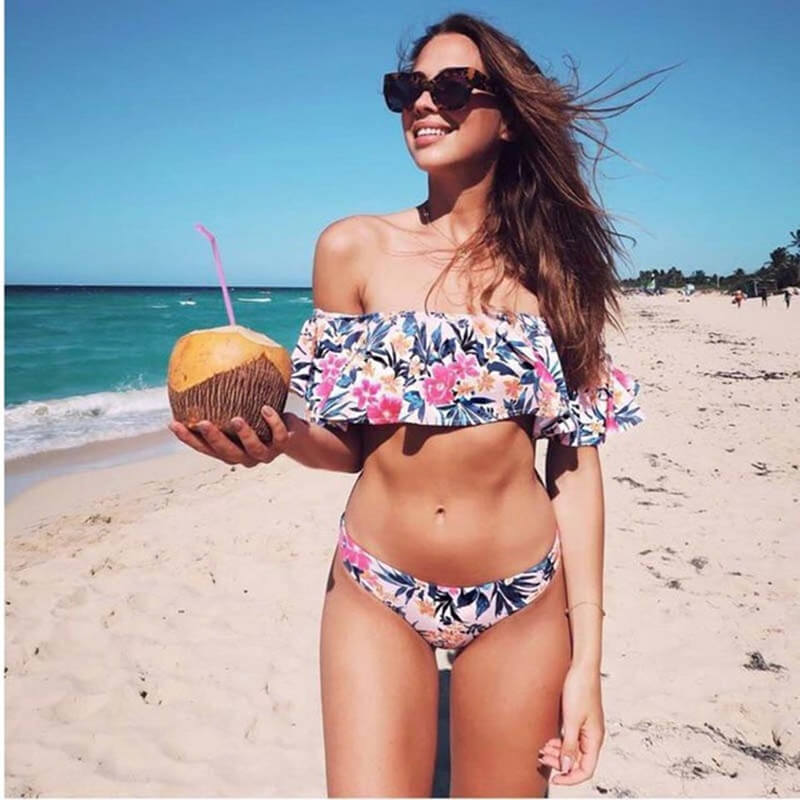 3) Sling Bikini: Sling bikini also known as 'Suspender bikini' or 'Slingshot' provides very less coverage as a bikini. The bottom of the bikini has straps going upwards around the shoulders and behind the neck, leaving both the sides of the torso uncovered. Best pick for hourglass body shaped women.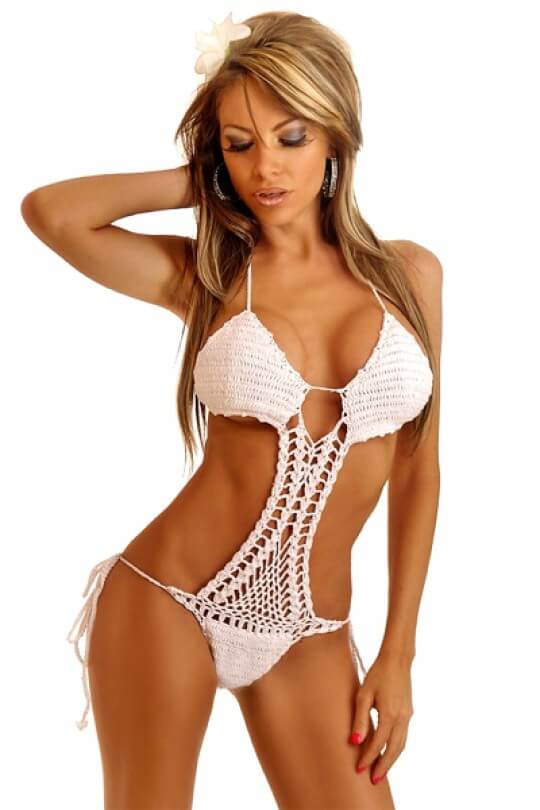 4) High-Waisted Bikini: Who says if you don't have a well-toned sexy bikini body, you can't slip-on them and play with your curves? These high-waisted bikinis are here to make you feel confident, comfortable, sexy and playful when in fact, it provides the right amount of coverage. Best for women with a curvy body as they can hide your bulges at its best and make you love all your curves and all your edges.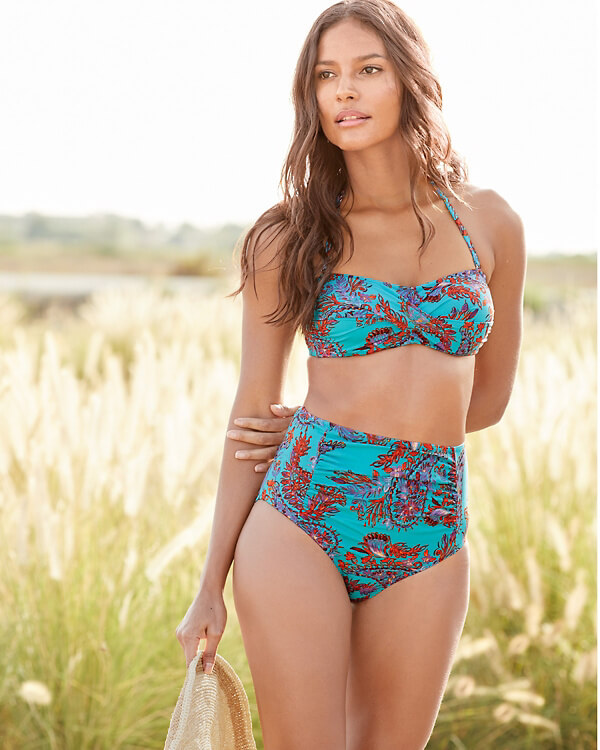 5) Strapless Bikini/Bandeau Bikini:  Get ready to dazzle your beach look and make yourself stand out from the crowd this summer season with the spicy, sassy and stylish strapless bikini. These are the ultimate beach vacay staple that will make you bloom on the beach amongst the palm trees. Hourglass-shaped women are best suited for this bikini style.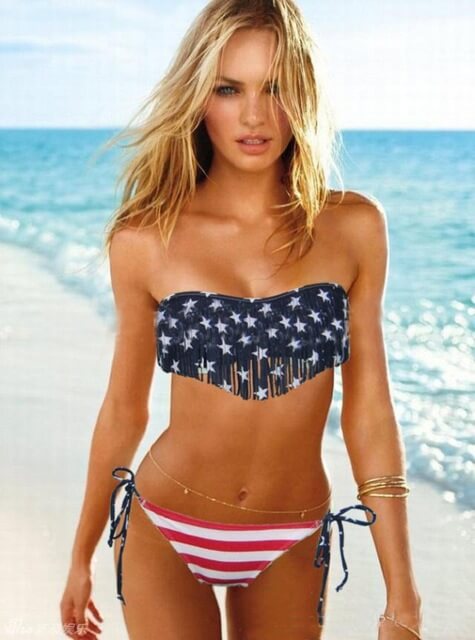 6) Halterneck Bikini: Flaunt your sexy shoulders bones with these figure-flattering swimwear this summer. Halterneck bikini gives great fit, brilliant support and light feel to your breasts which makes you feel comfortable while playing with the waves or during water sports. Treat yourself like you never did before with these halterneck bikinis on the breezy beach holiday. This bikini has two straps that tie up at the nape of the neck. These are best for women with sexy shoulders bones and the large bust as they provide great support.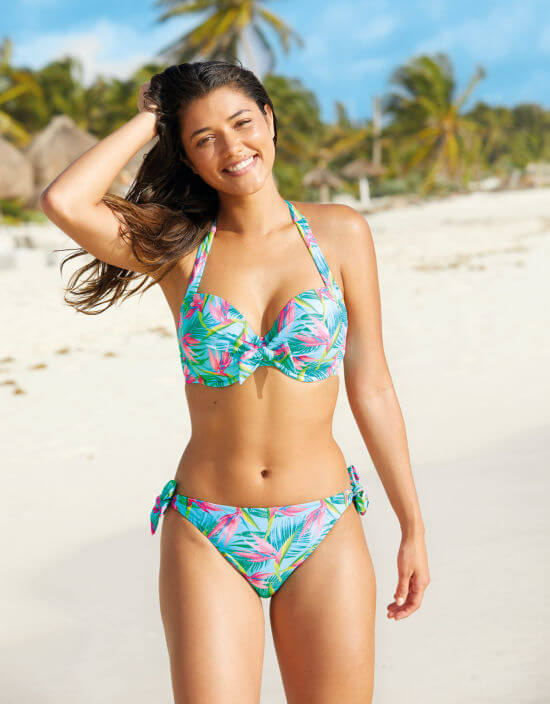 7) Triangle Bikini: Get gorgeous, elegant eye-catching look with this triangle bikini. It comes with adjustable straps going around the neck and back. Best pick-up for the woman with the small and large bust and straight body type.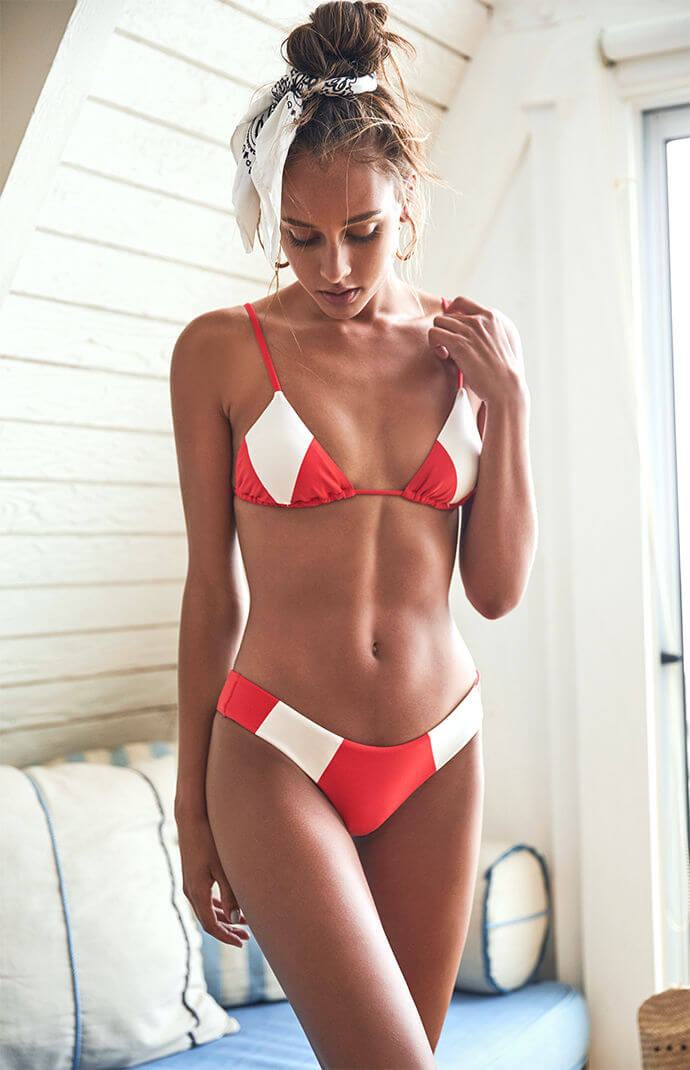 8) Knot-Front Bikini: If you are looking for the most stylish, trendy number, no need to look further, this one is the perfect way to go. The knot-front bikini comes with a knot on the front and a square back-line and looks super cute, damn sensuous and amazingly fashionable. Great for hourglass shaped women and women with a small bust.
9) Ladder Cut-Out Bikini: Accentuate your beach look with this Ladder cut-out bikini and let the crowd fall for your style. The bottoms of the ladder cut-out bikini are designed with the cuts at the side waist which gives a feminine look to your figure. Looks great on the hourglass and athletic body shaped woman as it enhances your curves beautifully.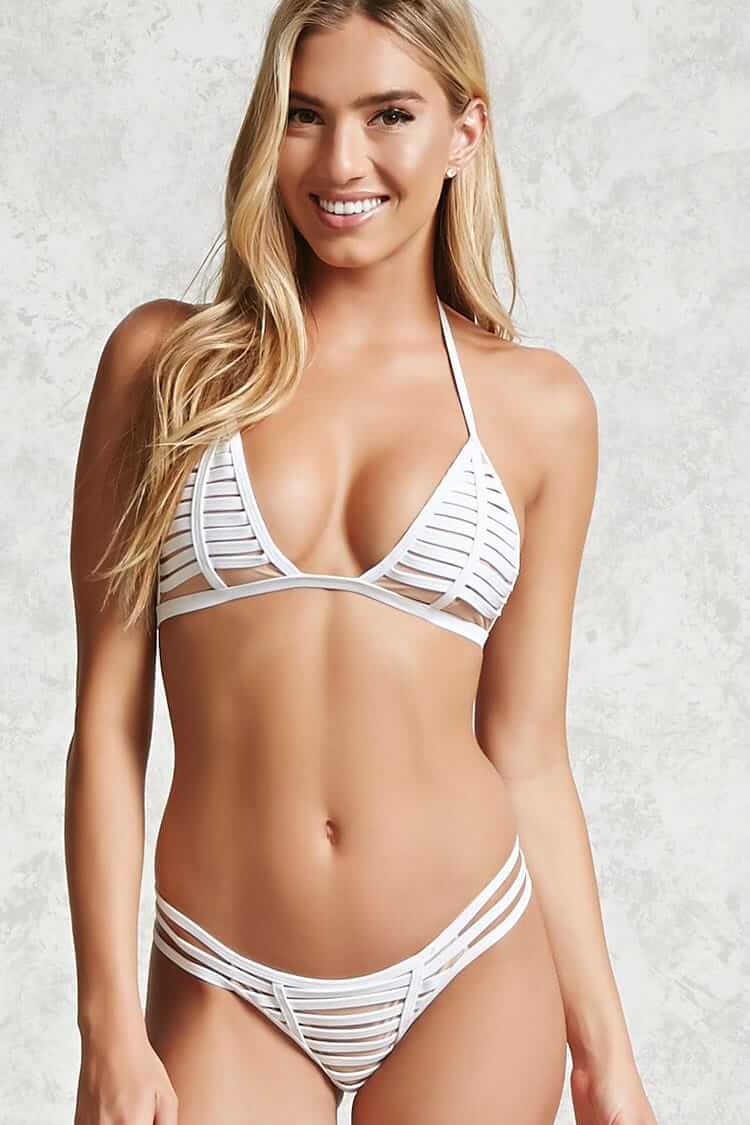 10) Flounce Bikini: Let yourself sway with the cool beachy breeze with this flouncy bikini. This bikini has a flouncy top which falls perfectly on a hot relaxing summer day on the beach. It can take you right away to any beach party or a pool party. Best for slim body shaped women.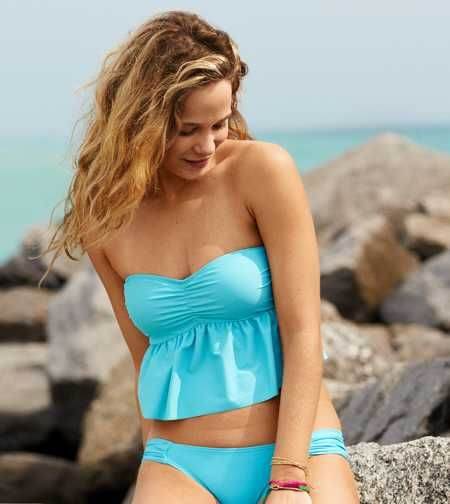 11) Ruffle Bikini: Get girly and play the trick with your figure with these super cute ruffle bikinis. This bikini has ruffles attached to the top which adds taste to your swimwear. Best for the woman with the small bust and skinny body as it will add shape to your body.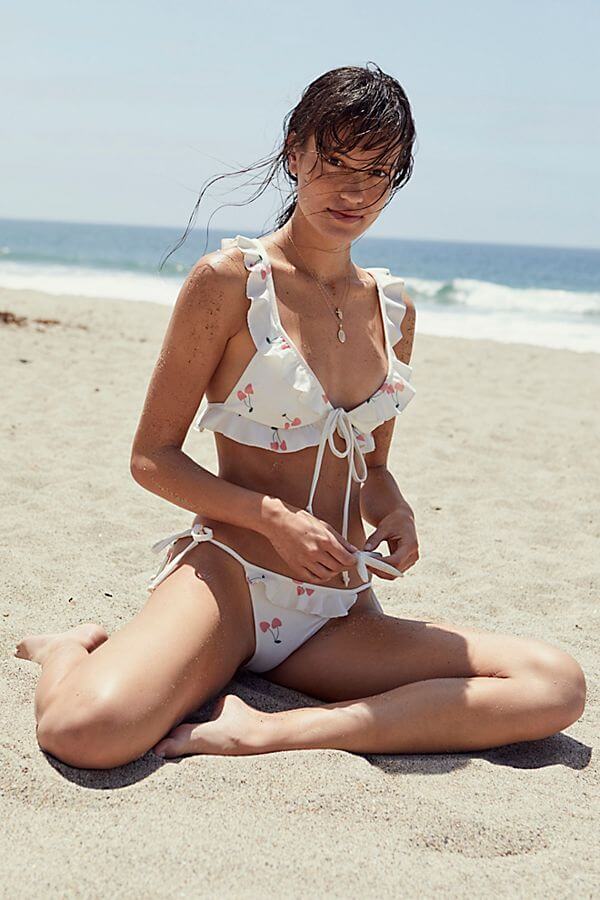 12) Square Neck Bikini: Upgrade your wardrobe with this square neck bikini. This one is the cutest and less revealing of all. Best for the woman with the large bust.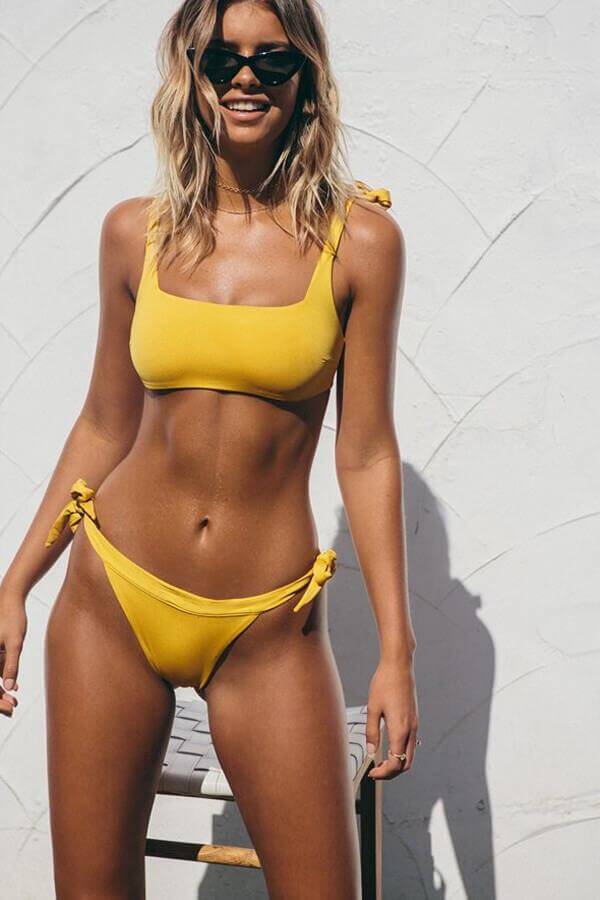 13) V-Neck Bikini Or Plunging Neckline Bikini: Play with breezy waves with these plunging neckline bikinis. The deep v- neck exposes the cleavage and so is best suited for the woman with small boobs and pear-shaped woman.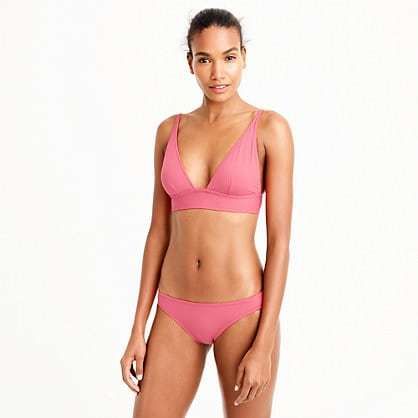 14) Crisscross High Neck Bikini: Crisscross high neck bikini is perfect when you want to get into the water and indulge in water sports as it keeps you comfortable even when you are completely drenched. It offers adjustable straps that tie up at the nape of the neck. Crisscross high neck bikini is the best option for playing water sports.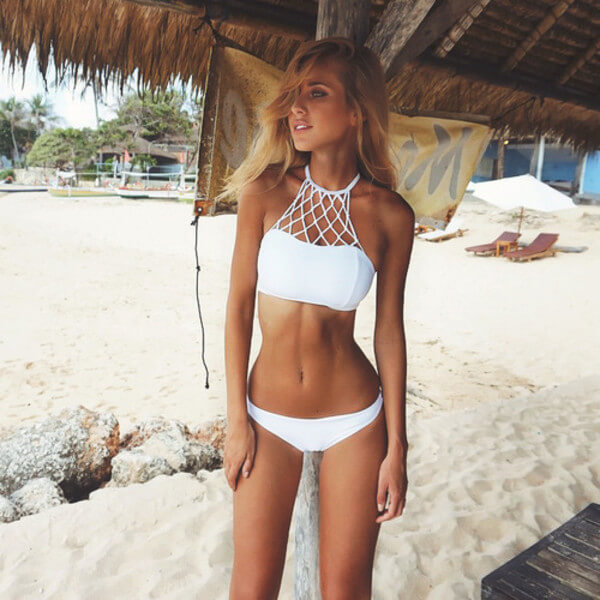 15) One-Shoulder Bikini: The love for one-shouldered dresses is still on the heights which have been translated into the bikini as well. These look oh-so-stylish in your selfie sessions and make you look gorgeous and stunning. These are good to go for the woman with big butts and skinny legs.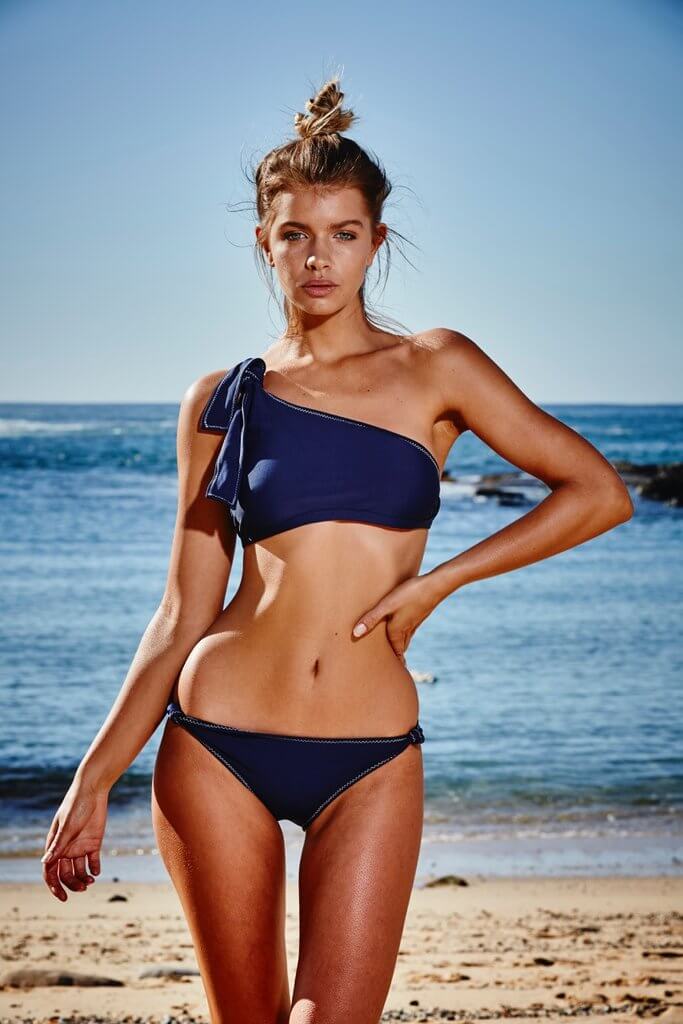 16) Skirt Bikini: Skirt bikinis are a great option for those who are not so comfortable in showing off their big butts and prefer something less revealing. You need a swimwear that provides a bit more coverage to your ample backside. This bikini has a skirt attached to the bottom. It is a great pick for the woman with full thighs and big booty.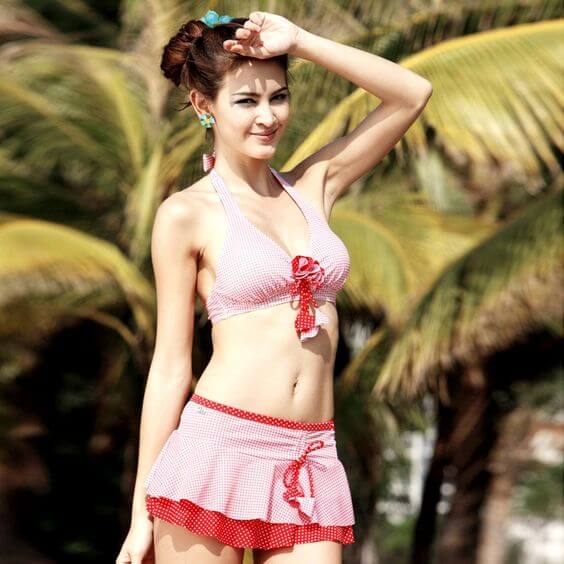 A beach vacation would be incomplete if bikinis have not been shopped yet. Go girls, get your favorite style in your bag.
Everything looks sexier when done in a right way!