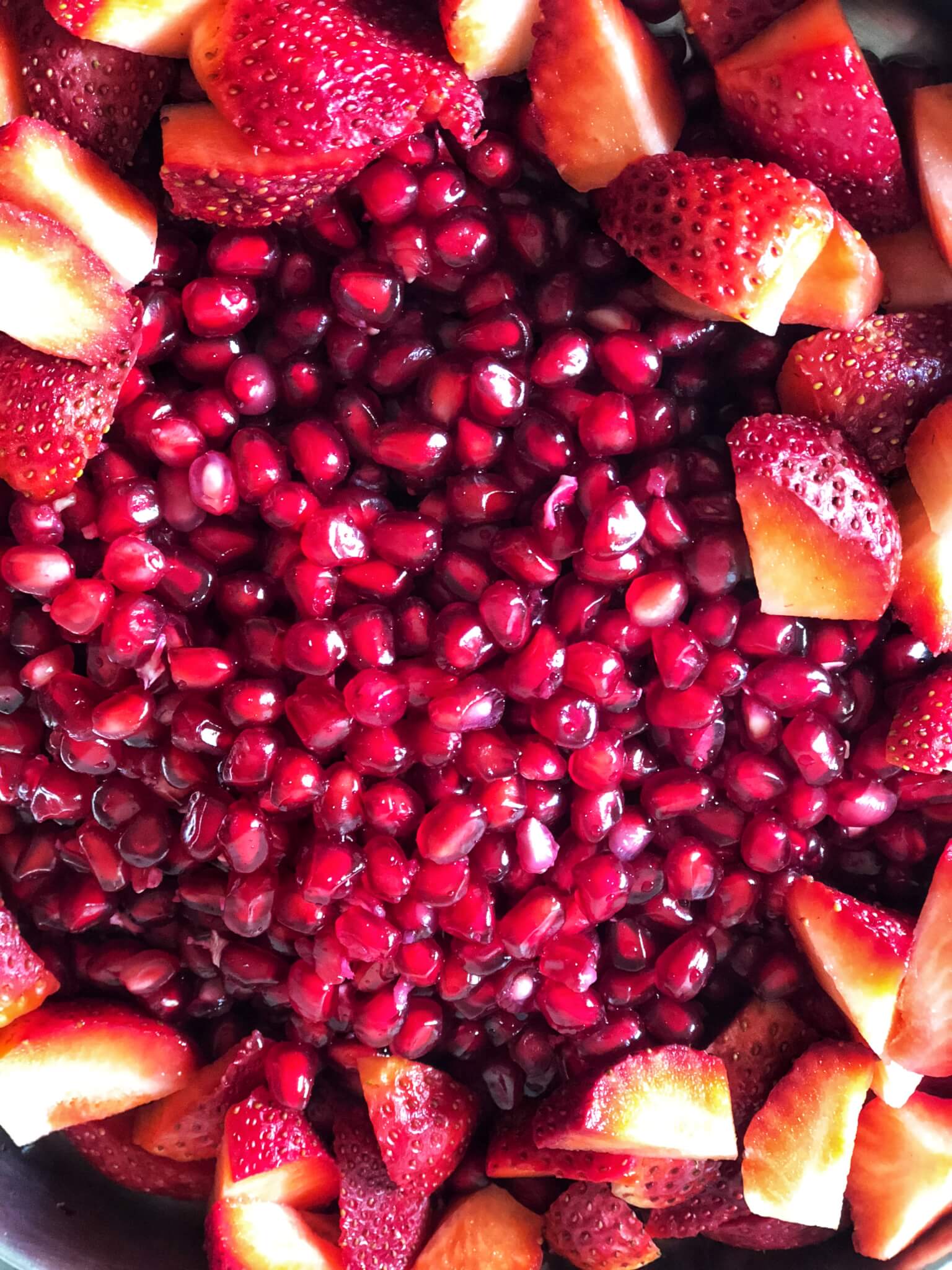 Secret to glowing and beautiful skin- Strawberry and Pomegranate homemade facemask
Are we all blessed with the perfect, clean and glowing skin? No, the majority of us aren't. The reason can be so many such as dust, pollution, improper diet, poor lifestyle, chemicals etc. and the list can go on and on. Now, here the question is don't we desire to have healthy and beautiful skin? yes, of course, we all do, however, we can actually turn around our skin imperfections into a perfectly healthy skin just by giving a fruity treatment to not just your health but skin as well. Fruits can be your skin's best friend provided you make sure that you eat fruits daily and apply any fruit mask every alternate day. In winters, your skin has to deal with an extra set of problems such as dry skin, itchy patches, UV damage and lustreless skin. Strawberries and pomegranate are such winter fruits that combat skin problems in winters and do miracles to your skin. These reddest, juiciest-looking fruits are not only deliciously sweet in taste but are super good for skin as well.
Strawberry and Pomegranate facemask for flawless and youthful skin
Benefits of Strawberry:
Strawberries contain Vitamin C that helps to combat wrinkles and pigmentation and gives you supple and glowing skin.
Strawberries are acidic in nature which helps to remove excess oil from the skin, therefore, controlling the acne formation on the skin.
The ellagic acid present in strawberries helps to lighten up the acne blemishes and protects the skin from UV rays.
Strawberries contain antioxidants that have anti-inflammatory properties which slow down the aging process and treat skin infections and burns.
Strawberries, being rich in AHA (alpha-hydroxylic acid), helps to bring the lost luster of your face and improve the texture and gets you smoother and more even-toned skin.
Benefits of pomegranate:
Pomegranate, also rich in vitamin C, helps to treat dull, flaky, itchy and dry skin. Also, the water level present in this delicious fruit helps to keep your skin hydrated.
Pomegranate also contains ellagic acid which protects the skin from UV damage and fights against dark spots and pigmentation.
Pomegranate is highly rich in anti-aging properties which delays the aging process and wrinkle formation on your skin.
Pomegranate stops the enzymes from breaking down the collagen, which is the basic part of your skin and therefore, helps to rejuvenate and revitalize your skin and provide a soft, smooth and youthful skin.
Pomegranate contains polyunsaturated fatty acid (punicic acid) which helps to keep the bacteria and infections at bay and ensures that you have healthy and happy skin.
What you need:
1 tablespoon of pomegranate paste.
1 tablespoon of strawberry paste.
1 tablespoon of rice flour.
1/2 teaspoon of lemon juice.
How to prepare:
Take 1 tablespoon of pomegranate seeds and blend them to get the paste.
Mash 2 strawberries with the fork to form a paste.
Add both the pastes, 1 tablespoon of rice flour and a 1/2 teaspoon of lemon juice.
Mix all the ingredients thoroughly until you get the thick paste.
Apply the paste to your face.
Leave it on for 30 minutes and then wash it off.
Repeat it twice or thrice a week to get the better results.
Rice floor has natural anti-aging and oil absorbing properties which makes it highly beneficial for treating acne and wrinkles. Intt is widely known as anti-inflammatory and skin whitening agent which makes your skin flawless, lustrous and taut. Lemons are highly rich in Vitamin C which helps to brighten your skin and reduces dark spots and blemishes.